Overview
VCU Trauma Center
The Virginia Commonwealth University Surgical Critical Care Fellowship is a one-year ACGME-accredited program at Central Virginia's only Level I Trauma Center for adult and pediatric patients with about 4,500 trauma activations per year.
Our fellows will master the care of critically ill trauma-, burn-, and surgery patients of all specialties and participate in the operative management of complex trauma patients during supervised trauma call with graduated autonomy.
Clinical experience
Working at VCU Health
In the Surgery and Trauma ICU, our fellows will master the care of critically ill trauma-, burn-, and surgery patients of all specialties. They participate in, and eventually lead daily rounds and perform bedside procedures such as tracheostomies, PEGs, and chest tubes. Fellows will learn the use of limited echocardiography and point of care ultrasound.
In our weekly "Trauma Teaching Rounds", we discuss the operative management of complex trauma patients and prepare the fellows for trauma call, which they take on weekends during the second half of the fellowship year. Trauma call is with an attending Acute Care Surgeon and allows for graduated autonomy while support and oversight are always assured.
Additional educational opportunities include:
Trauma conference and M&M

International Trauma Tele-Grand Rounds with the Panamerican Trauma Society
Elective burn surgery, anesthesia, cardiac ICU, medical ICU, or global surgery rotations
Education of pre-hospital personnel and students through the VCU Center for Trauma and Critical Care Education (CTCCE)
Certification as instructors (or Course Director Candidates) for Advanced Trauma Life Support (ATLS) and Advanced Surgical Skills for Exposure in Trauma (ASSET)
The fellowship program also provides opportunities for international collaboration with other trauma-related professionals through its active partnership with the Panamerican Trauma Society.
VCU Trauma Center
VCU Health System has 1,125 beds and is Central Virginia's only Level I trauma center for adult and pediatric patients.
The Surgical Trauma ICU (STICU) service cares for an average of 50 patients and includes neuro-, transplant-, and burn critical care. Our annual trauma admissions average 4,500 and the ED has more than 100,000 visits per year.
VCU Trauma Center
Research
While the focus of the fellowship is clinical, fellows will complete at least one research or quality improvement project.
Conferences
Weekly trauma conference and M&M: Peer-review of morbidities, mortalities and interesting cases on the trauma and emergency general surgery services
Weekly international trauma grand rounds with the

Panamerican Trauma Society: Interesting and challenging case discussions presented by the international members of the Panamerican Trauma Society
Eastern Association for the Surgery of Trauma's annual conference: All fellows attend the annual meeting of EAST
VCU Health Rao Ivatury Trauma Symposium: Annual regional trauma conference hosted by VCU Health with focus on multidisciplinary trauma management in pre-hospital, ED and ICU settings
Program Alumni
2023: Patrick Melmer
2023: Matthew Yanoff
2021: Lisbi del Valle Rivas Ramirez
2021: Jennifer Catlin
2020: Audrey Pendleton — Rush University Medical Center, Cook County Hospital, Chicago, IL
2020: Hiba Ezzeddine — VCU Medical Center, VCU Health, Richmond, VA
2019: Raquel Weston — Tallahassee Memorial, Tallahassee, FL
2019: Charles Grigsby — Eastern Virginia Medical School, Norfolk, VA
2018: Roberto Castillo — St. Luke's University Health Network, Bethlehem, PA
2018: Aela Vely — Southern Illinois University, Carbondale, IL
2017: Mark Blum — Lifebridge Health Sinai Hospital, Baltimore, MD
2017: Ashanthi Ratnasekera — Crozer-Keystone Health Network, PA
2016: Molly Flannagan — Cleveland Clinic Foundation, Cleveland, OH
2016: Aditi Kapil — Baystate Health, Springfield, MA
How to apply
SAFAS Application
Our fellowship uses the National Resident Matching Program to fill available slots. The application process is open February to August of each year.
To apply, complete the SAFAS online application.
Required documents include:
Photo
Three original letters of recommendation (one must be dated within the past year; if currently in a program, must have one from current program director)
Medical school diploma (certified copy)
Medical school transcript (certified copy)
Current CV
Personal statement
Applications will be reviewed when complete. Our interview sessions are primarily scheduled in May, June, and July.
For more information, contact Dannette Arezzi, Fellowship Coordinator at dannette.arezzi@vcuhealth.org
Teaching Faculty
Acute Care Surgical Services
Michel Aboutanos, MD, MPH, FACS
Professor of Surgery
Michel Aboutanos, MD, MPH, FACS
Professor of Surgery
Division of Acute Care Surgical Services
Professor
The Fletcher Emory Ammons Distinguished Professor in Surgery
Professor & Chair, Division of Acute Care Surgical Services
Medical Director , VCU Level 1 Trauma Center
Medical Director, VCU Trauma Network
Medical Director, VCU Injury & Violence Prevention Program
Phone: (804) 827-1207
Fax: (804) 827-0285
Email: michel.aboutanos@vcuhealth.org
Address/Location:
Box 980454
Richmond, VA 23298-0454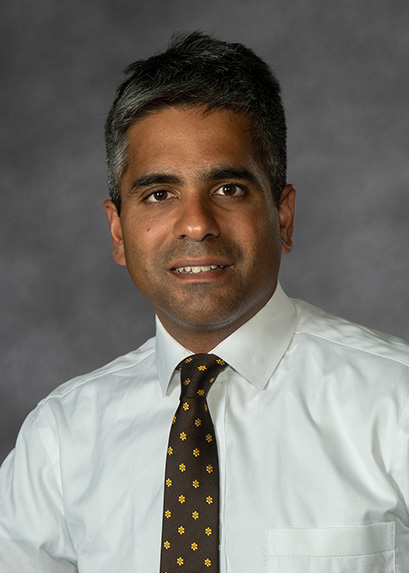 Rahul J. Anand, MD, FACS
Professor of Surgery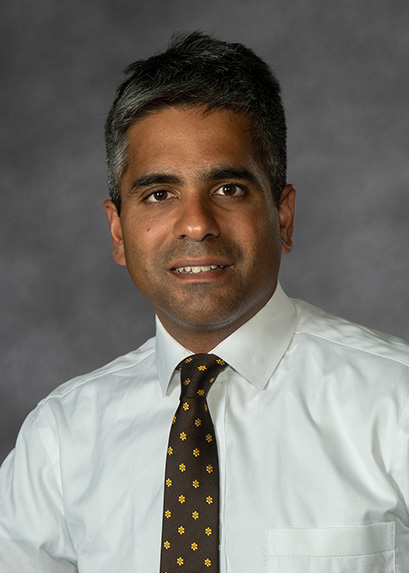 Rahul J. Anand, MD, FACS
Professor of Surgery
Division of Acute Care Surgical Services
Program Director, VCU General Surgery Residency
Phone: (804) 827-1207
Email: Rahul.Anand@vcuhealth.org
Address/Location:
Box 980454
Richmond, VA 23298-0454
Jonathan D. Bennett, MD
Assistant Professor of Surgery
Jonathan D. Bennett, MD
Assistant Professor of Surgery
Division of Acute Care Surgical Services
Phone: (804) 827-1207
Email: Jonathan.Bennett@vcuhealth.org
Address/Location:
Box 980454
Richmond, VA 23298-0454
Jennifer Catlin, MD
Assistant Professor of Surgery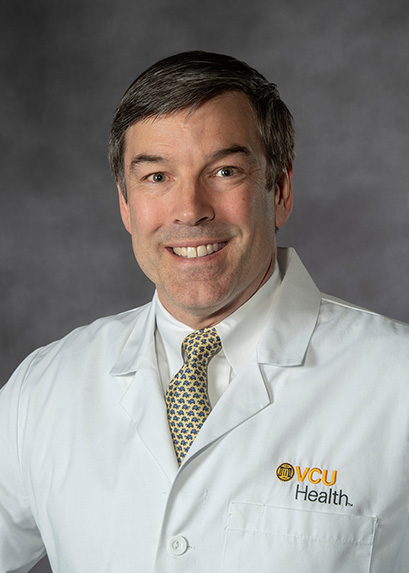 Christopher Hogan, MD, FACEP
Associate Professor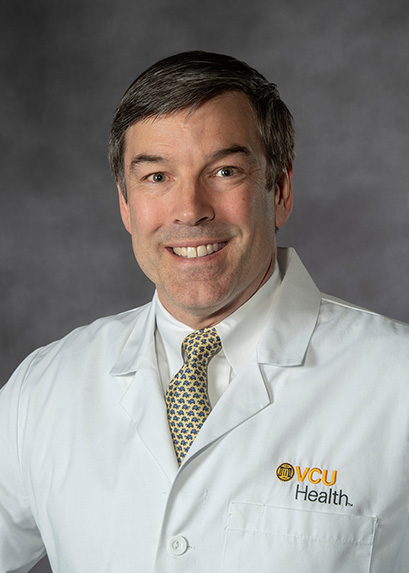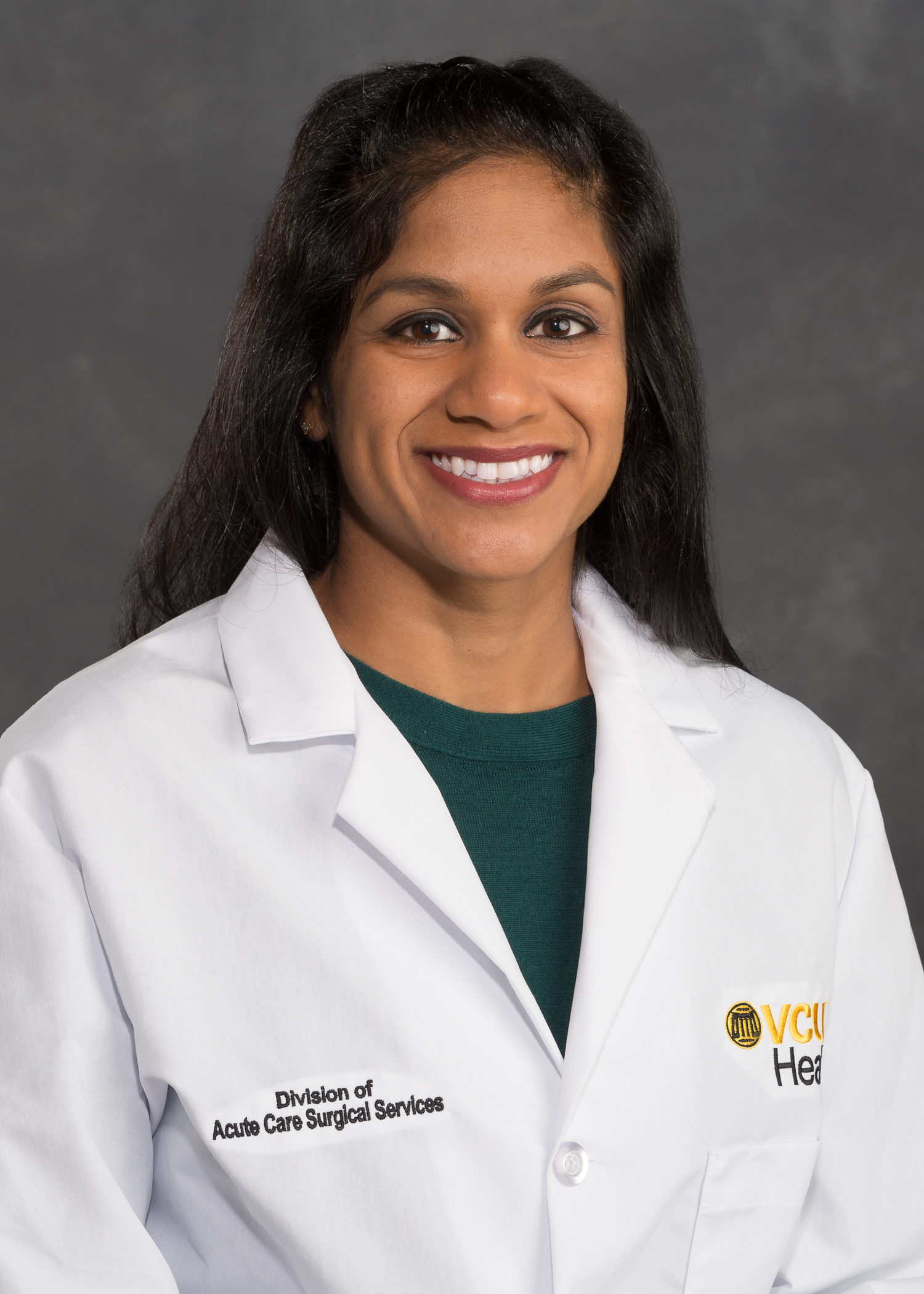 Sayuri Jinadasa, MD
Assistant Professor of Surgery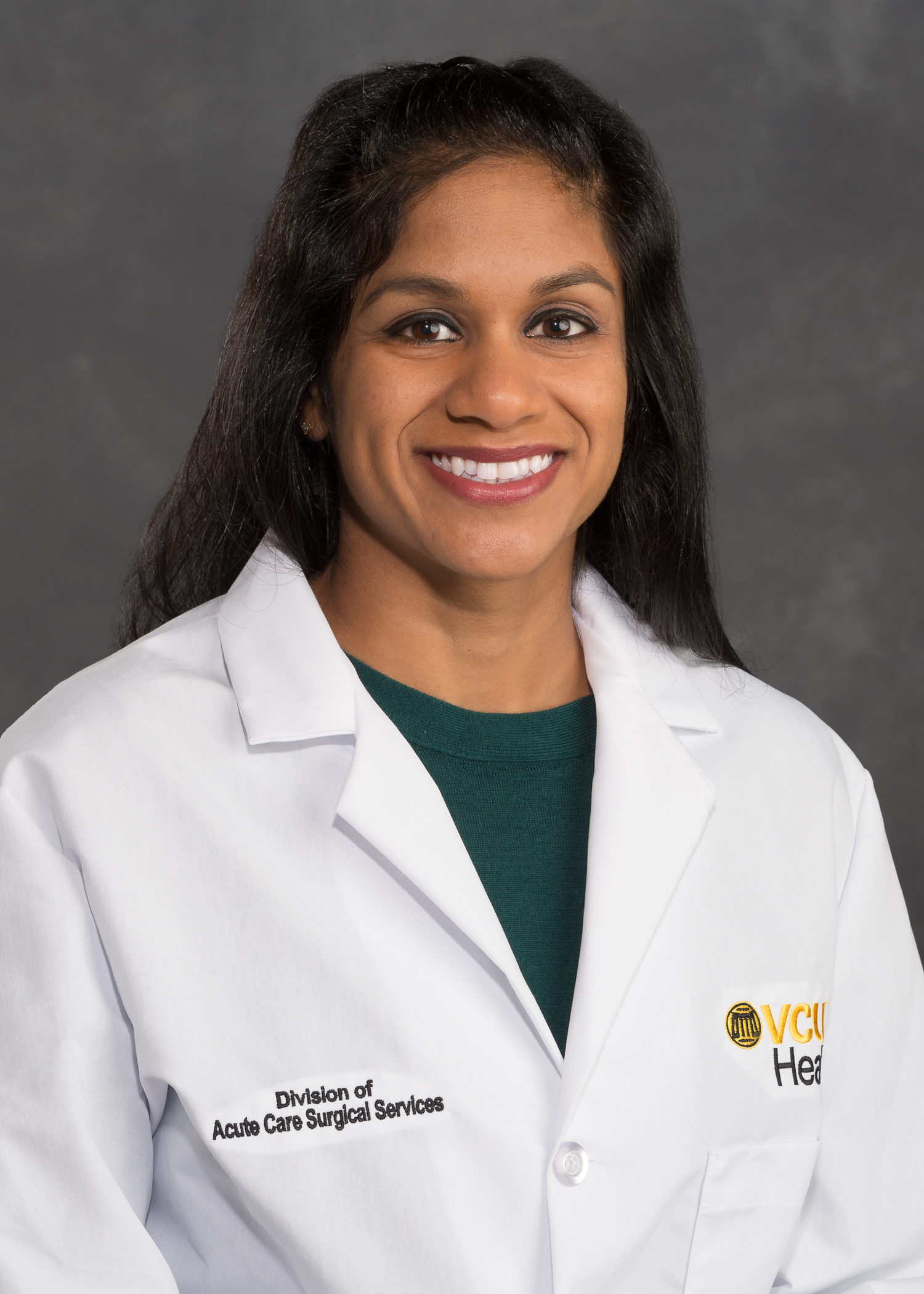 Sayuri Jinadasa, MD
Assistant Professor of Surgery
Surgery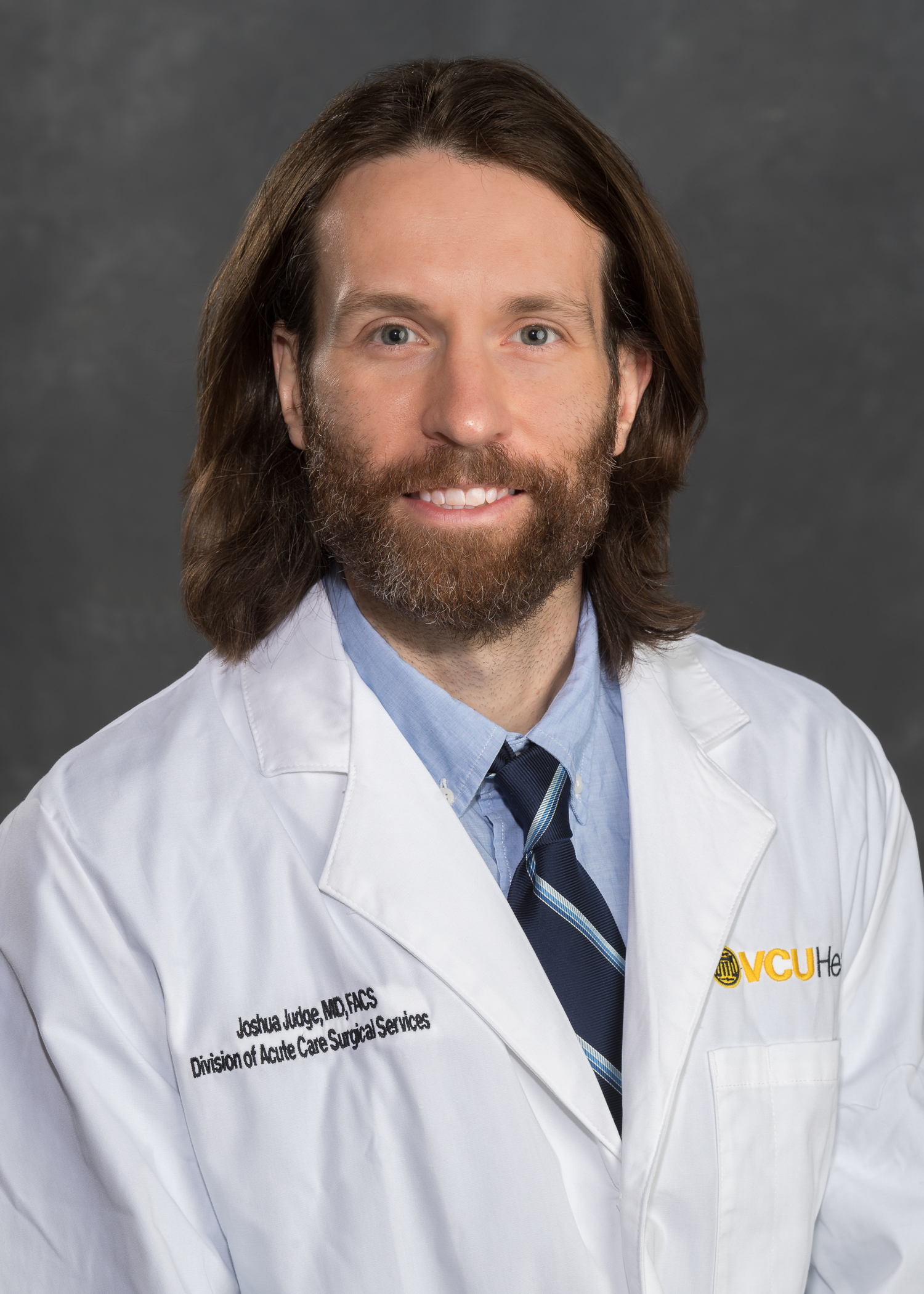 Joshua Judge, MD
Associate Professor of Surgery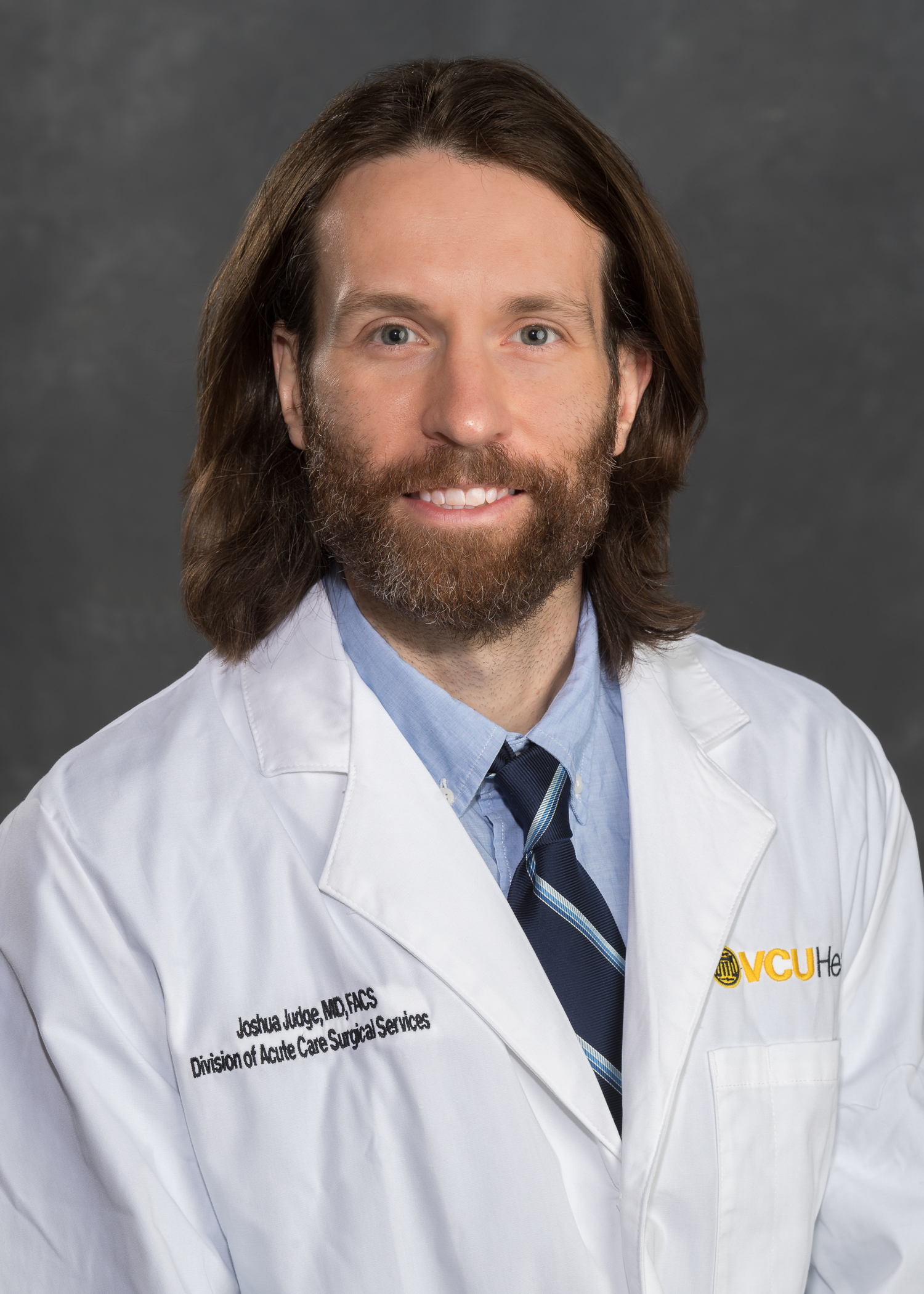 Joshua Judge, MD
Associate Professor of Surgery
Division of Acute Care Surgical Services
Patrick Melmer, MD
Assistant Professor of Surgery
Patrick Melmer, MD
Assistant Professor of Surgery
Surgery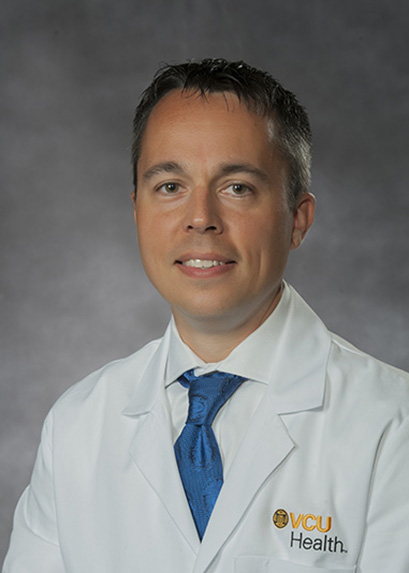 Levi Procter, MD
Associate Professor of Surgery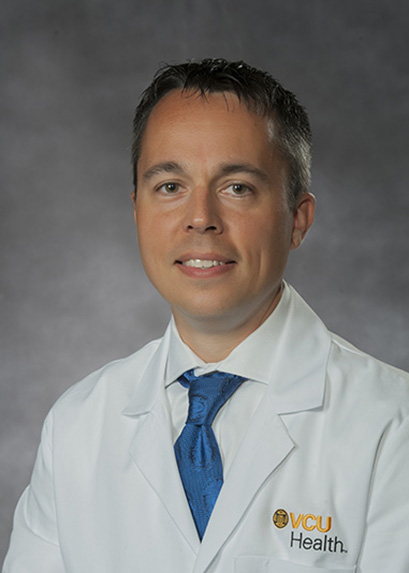 Levi Procter, MD
Associate Professor of Surgery
Division of Acute Care Surgical Services
Phone: (804) 827-1207
Email: Levi.Procter@vcuhealth.org
Address/Location:
Box 980454
Richmond, VA 23298-0454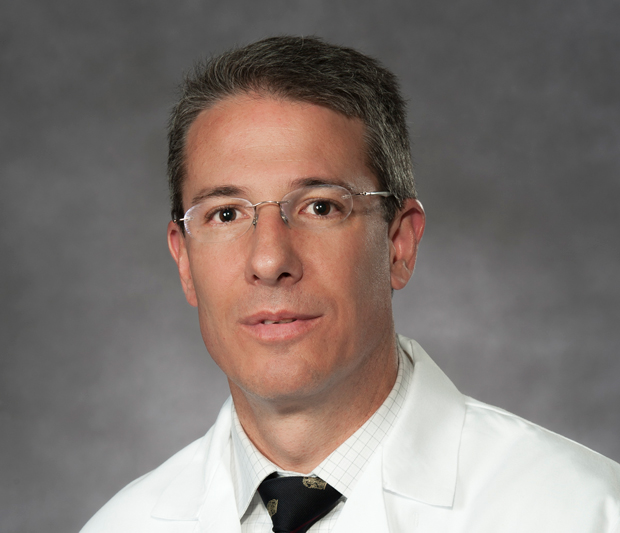 Edgar B. Rodas, MD, FACS
Associate Professor of Surgery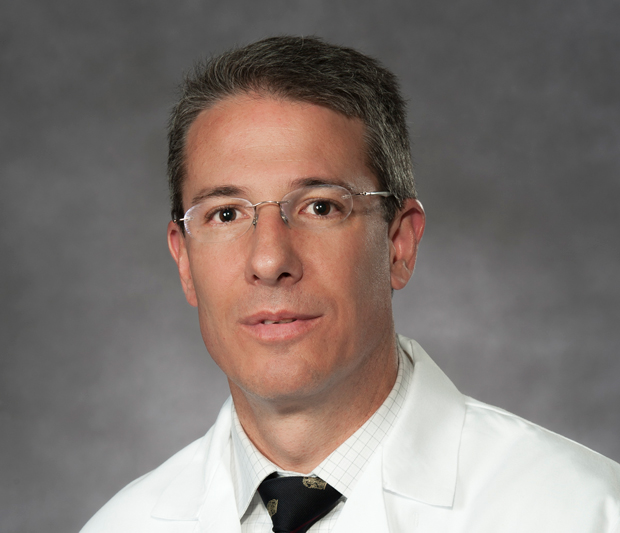 Edgar B. Rodas, MD, FACS
Associate Professor of Surgery
Division of Acute Care Surgical Services
Director, VCU Program for Global Surgery
Phone: (804) 827-1207
Email: Edgar.Rodas@vcuhealth.org
Address/Location:
Box 980454
Richmond, VA 23298-0454
Omar Rokayak, DO, FACS
Assistant Professor of Surgery
Omar Rokayak, DO, FACS
Assistant Professor of Surgery
Surgery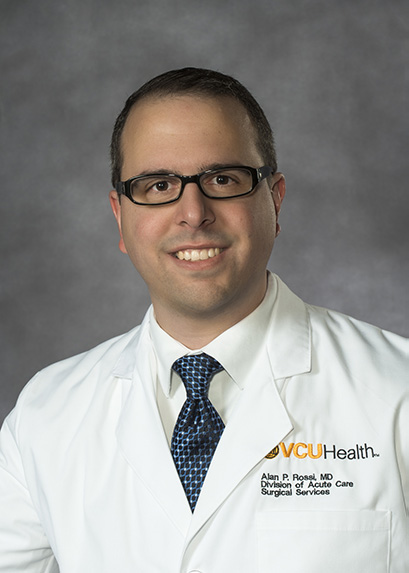 Alan P. Rossi, MD
Assistant Professor of Surgery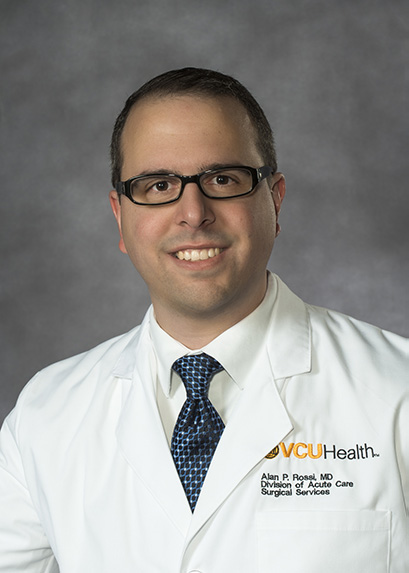 Alan P. Rossi, MD
Assistant Professor of Surgery
Division of Acute Care Surgical Services
Phone: (804) 827-1207
Email: Alan.Rossi@vcuhealth.org
Address/Location:
Box 980645
Richmond, VA 23298-0645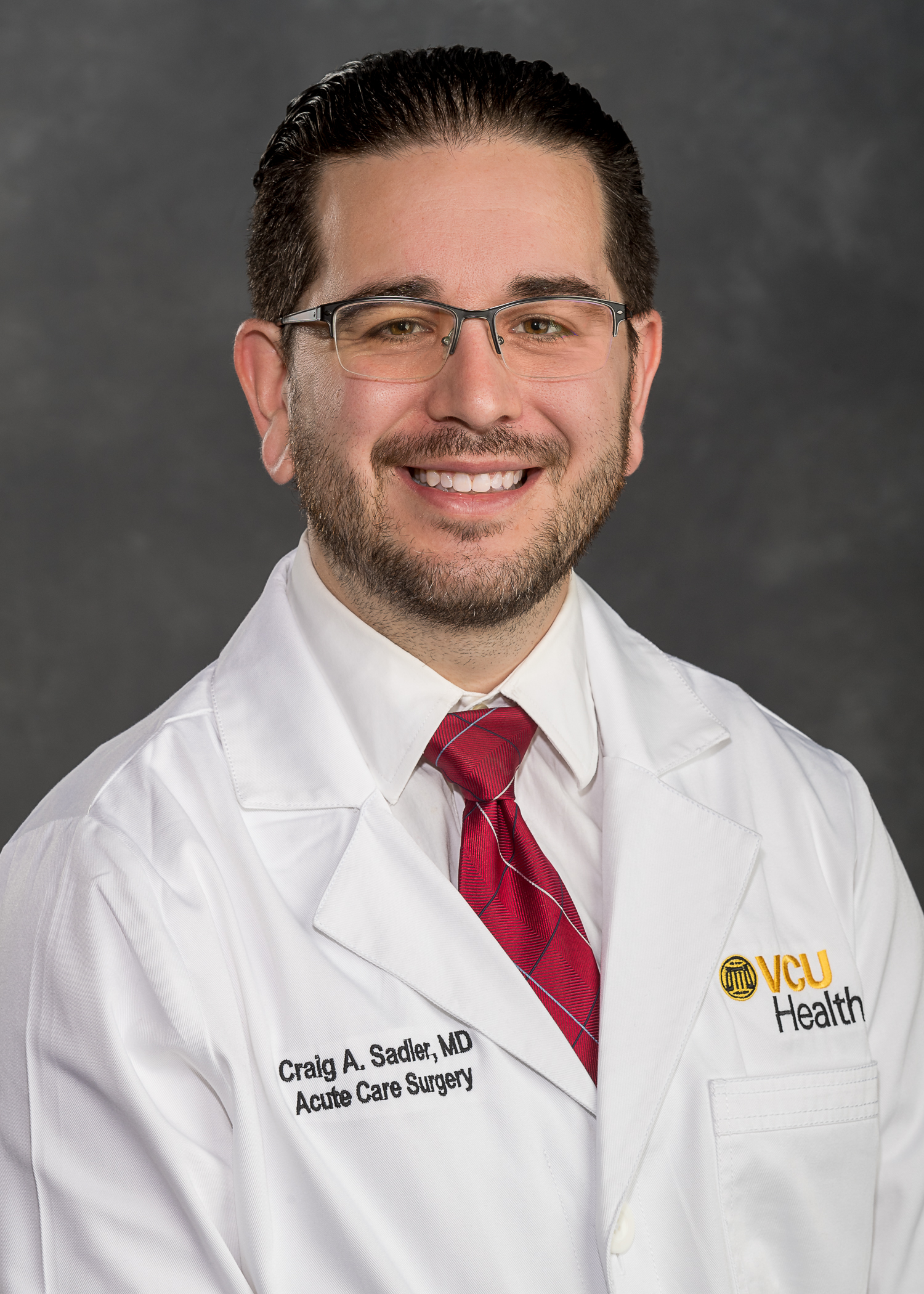 Craig Sadler, MD
Assistant Professor of Surgery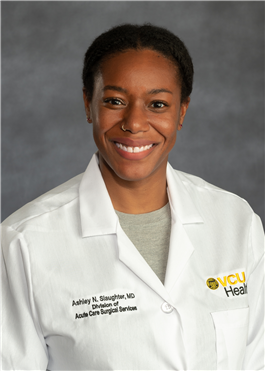 Ashley Slaughter, MD
Assistant Professor of Surgery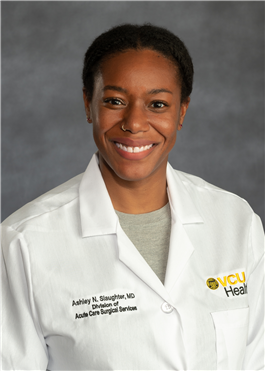 Ashley Slaughter, MD
Assistant Professor of Surgery
Division of Acute Care Surgical Services
Phone: (804) 628-3215
Email: Ashley.Slaughter@vcuhealth.org
Address/Location:
Box 980454
Richmond, VA 23298-0454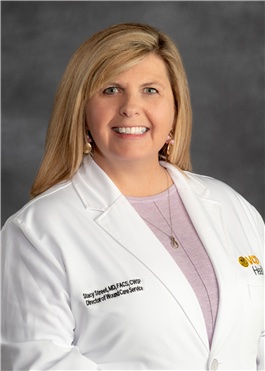 Stacy L. Street, MD
Assistant Clinical Professor of Surgery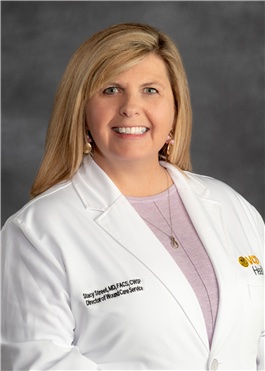 Stacy L. Street, MD
Assistant Clinical Professor of Surgery
Division of Acute Care Surgical Services
Phone: (804) 628-3019
Email: Stacy.Street@vcuhealth.org
Address/Location:
Box 980454
Richmond, VA 23298-0454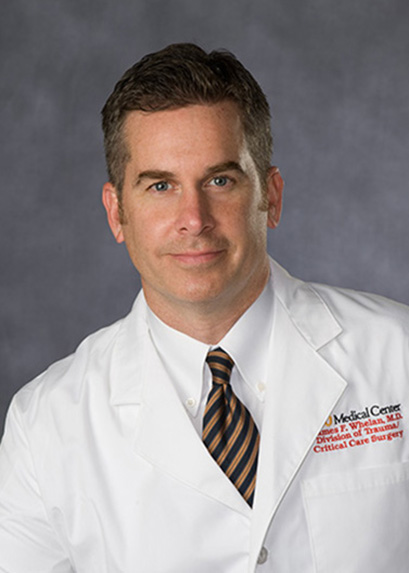 James L. Whelan, Jr, MD
Professor of Surgery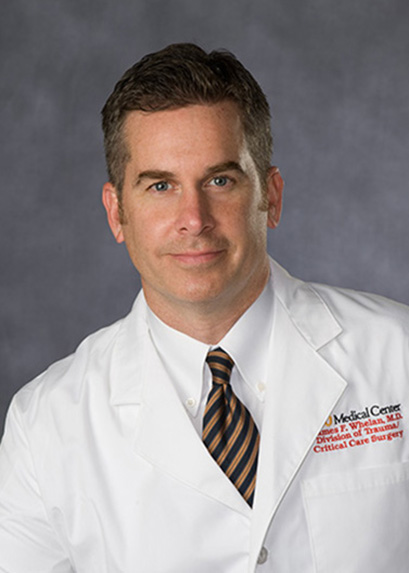 James L. Whelan, Jr, MD
Professor of Surgery
Division of Acute Care Surgical Services
Phone: (804) 827-1207
Email: James.Whelan@vcuhealth.org
Address/Location:
Box 980454
Richmond, VA 23298-0454