Overview
Welcome prospective applicants! We are excited to match one resident for the upcoming academic year. We recommend you read our application process for the upcoming Match and encourage you to check out our Facebook and Instagram accounts to learn more about our program, tips and tricks for this year's interview cycle, dates for interviews, meet and greets, and more!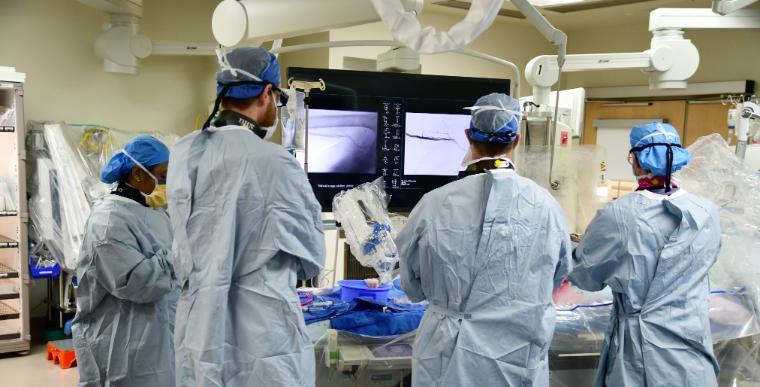 VCU Medical Center
The flagship facility is an 845-bed Level 1 Trauma Center performing 25,000 surgical cases annually in 37 operating rooms. There are three hybrid endovascular ORs with advanced capabilities including cone-beam CT and CT-fluoroscopy 3D fusion technology. A vascular surgery operative team including specially trained nurses and technologists is available 24/7 to provide expert support for open and endovascular cases. It is also home to the region's busiest vascular lab, completing over 14,000 studies per year. VCU's referral base includes a high proportion of underserved urban and rural patients as well as patients seeking second opinions or advanced care.
Central Virginia VA Health System
Located near VCU Medical Center, the Richmond VA Medical Center is staffed by over 200 physicians and is the second-largest federal structure in Virginia next to the Pentagon. It acts as a tertiary referral center in the VA system, supporting advanced programs such as heart transplantation. The hospital has over 400 beds, one of the largest spinal cord injury centers in the VA, and multiple ICUs. A hybrid OR is under construction and will be completed in 2022.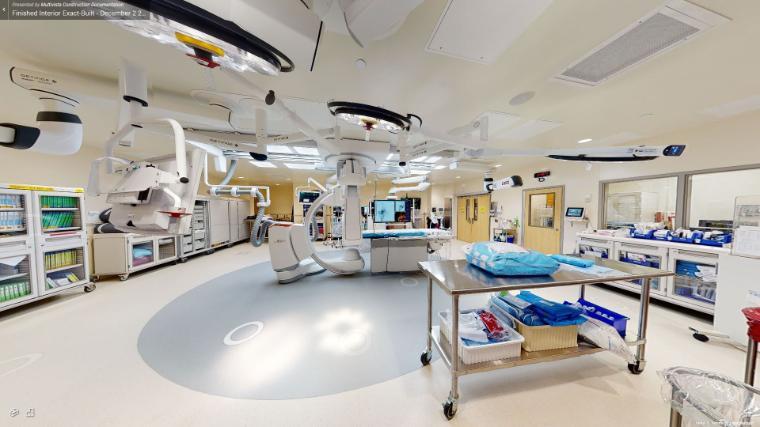 The Division of Vascular Surgery also provides care at VCU Tappahannock Hospital (67 beds) and VCU Community Memorial Hospital (80 beds), as well as multiple outpatient clinics throughout the region.
The core of the vascular surgery residency is on-the-job, clinical training. One of the great strengths of the program is its broad experience in all aspects of vascular surgery. Residents become confident in both open and endovascular procedures, including procedures that some academic programs do not include in their training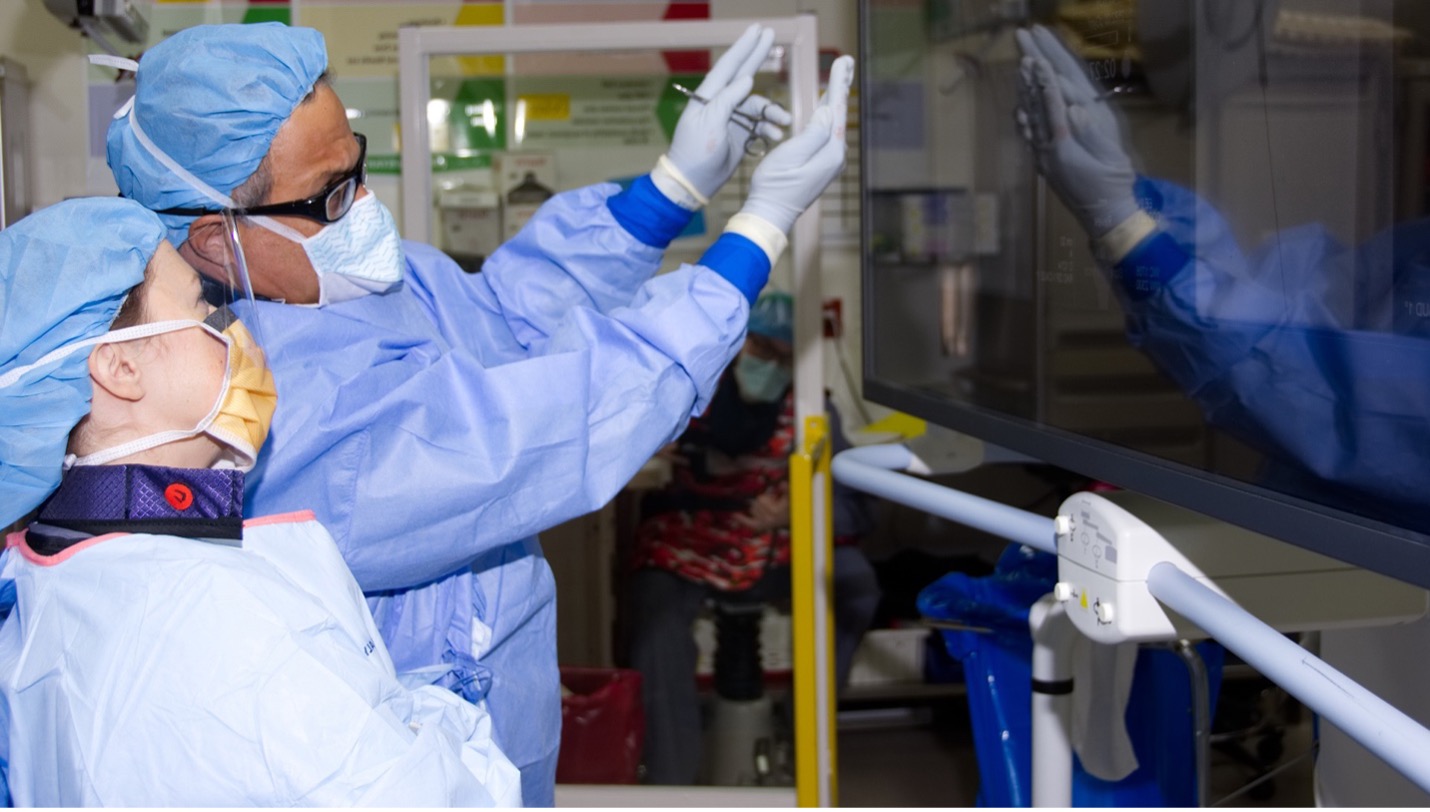 The scope of the surgical training includes:
Thoracic & abdominal aortic interventions​
Open abdominal and thoracoabdominal aneurysm repairs
Mesenteric and renal revascularization
Carotid endarterectomy, TCAR, transfemoral carotid stenting
Infra-inguinal open revascularization
Peripheral endovascular interventions​
Pedal access, atherectomy, Penumbra, Angiojet, etc​
Venous surgery and interventions
Major vascular trauma reconstructions
Oncologic vascular reconstructions
Hemodialysis access and maintenance​
Thoracic outlet surgery
Anterior and oblique spine access (for ALIF and OLIF)
VCU Vascular Surgery
The vascular service at VCU is a high-volume vascular surgery practice at the tertiary academic medical center in Richmond, Virginia. With the most advanced facilities and technology in the region, complex endovascular and open procedures are regularly undertaken. Vascular surgery performs all of the peripheral arterial and aortic endovascular interventions at VCU. Vascular surgery often assists other surgical services with reconstruction following tumor resection, in difficult perivascular exposures, for bleeding complications, and for trauma.
The rotation is arranged in a mentorship model, with each resident assigned to two vascular attendings. The resident takes the call and oversees primary and consults patients with their attendings. This arrangement streamlines communication and helps quickly build trust between trainees and faculty, which in turn allows greater autonomy.
Core faculty at VCU Medical Center:
Mark Levy, MD, Division Chair
Francisco Albuquerque, MD
Robert Larson, MD
Daniel Newton, MD
In addition, nurse practitioners Morgan Messner ANP and Shirley Yau AGACNP provide care with the division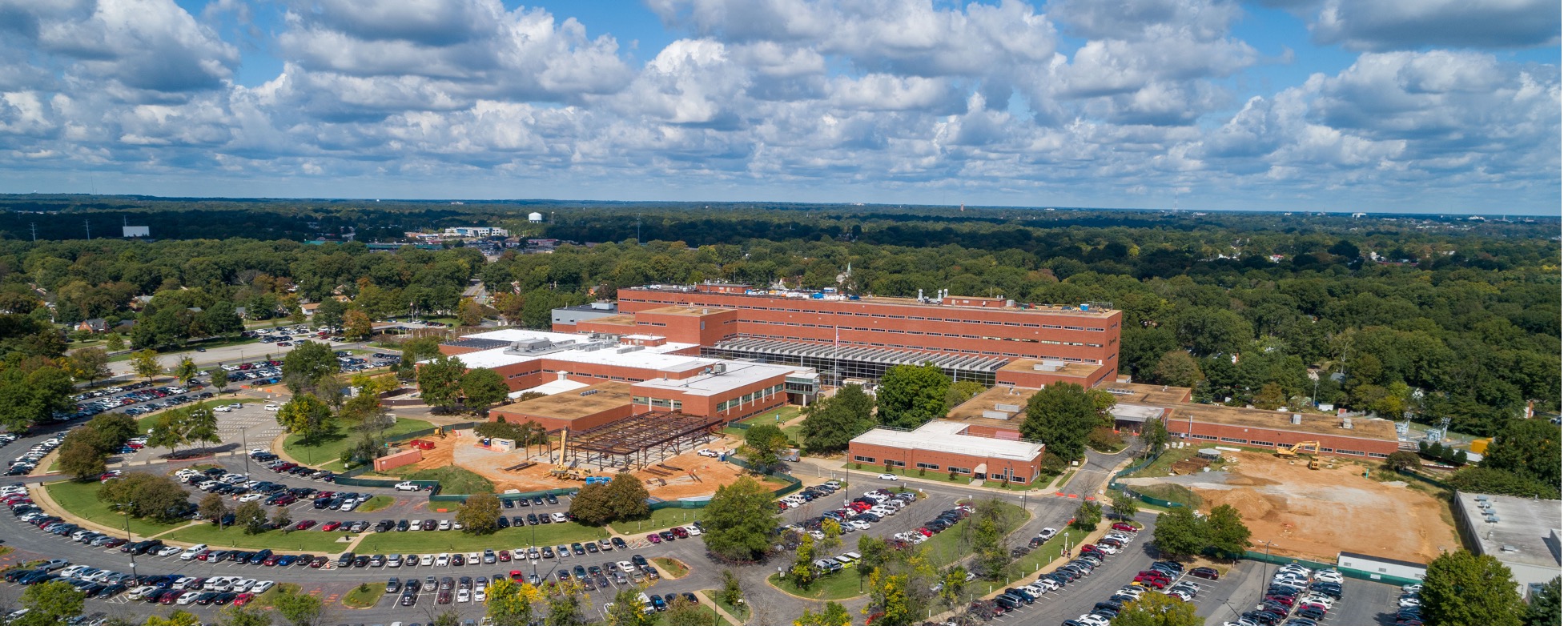 VAMC Vascular Surgery
The Vascular Surgery division completed over 400 operations last year involving cerebrovascular, aortic, and peripheral vascular procedures as well as dialysis access. The brand-new hybrid OR is set to open at the end of 2022 which will increase the advanced vascular surgery volume even further. There are three full-time vascular surgeons and one part-time surgeon as of August 2022.
Core faculty at the VA Medical Center:
Michael Amendola, MD, MEHP
Kathryn Fong, MD
Kedar Lavingia, MD
John Pfeifer, MD
One of the unique aspects of the program is the positive, collegial working relationship with other services including interventional radiology, cardiology, and cardiothoracic surgery. Non-core vascular rotations in the program are selected to develop trainees into excellent open and endovascular surgeons. They include valuable rotations on services that dovetail with the practice of vascular surgery and add to the future surgeon's skillset:
Transplant Surgery: Major abdominal vascular exposures, robotic vascular anastomoses
Cardiothoracic Surgery: Thoracic exposures, cardiopulmonary bypass, and ECMO
Interventional Radiology: Visceral and pelvic embolization for trauma and cancer, challenging central venous access, dialysis access maintenance, and deep venous interventions
Trauma Surgery: Trauma resuscitation, damage control surgery, triage
Critical care: Management of the critically ill patient, intensive post-operative care
General Surgery and related subspecialties: Abdominal exposures, management of surgical infections, management of the viscera
Vascular Block Schedule 6-13-23
We provide wet- and dry-lab training to help residents hone their craft in a high-repetition, low-risk setting. This includes training in open vascular exposures on donated cadavers and high-fidelity endovascular simulation. These sessions allow residents to "hit the ground running" in the OR, making the most of their surgical experience.
The didactic curriculum helps residents develop into well-rounded surgeons with a deep understanding of both the pathophysiology of vascular disease and the scientific basis for modern surgical practice.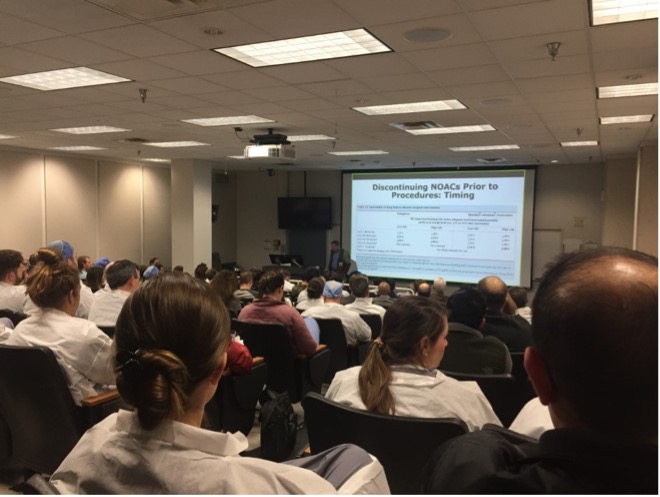 Junior residents attend the general surgery didactic conferences while on general surgery rotations, which supplies foundational instruction in the care of surgical patients. All residents attend vascular surgery didactic as well as M&M conferences, and the monthly Comprehensive Aortic Program conference.
Vascular residents can conduct research of their choosing concurrent with their clinical training. There is no required research year. Research is primarily clinically focused, with basic science research infrastructure available for particularly motivated residents. Support includes a departmental statistician and lab space, access to clinical registry data, as well as research coordination and administrative support. The medical school also has a highly active Vascular Surgery Interest Group, whose members take part in many of our research endeavors.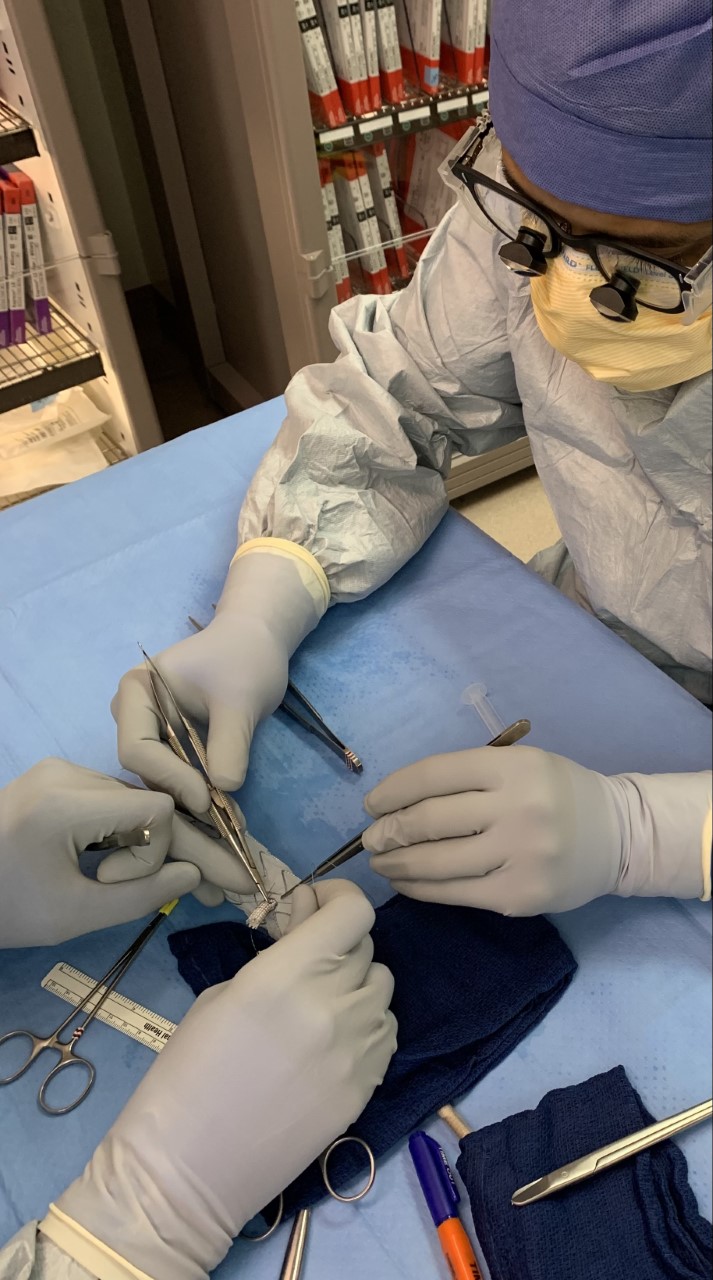 Examples of ongoing research:
Multiple industry-funded studies/trials
VA Advanced Manufacturing/3D Printing Lab
VCU Aortic Registry and Tissue Bank
Aortic wall tension using MRI
Marfan Syndrome administrative dataset, 16,000 patients
Large animal surgical lab
Registry-based studies using VASQIP, NSQIP, VQI
Vascular Low-Frequency Disease Consortium
Retrospective cohort studies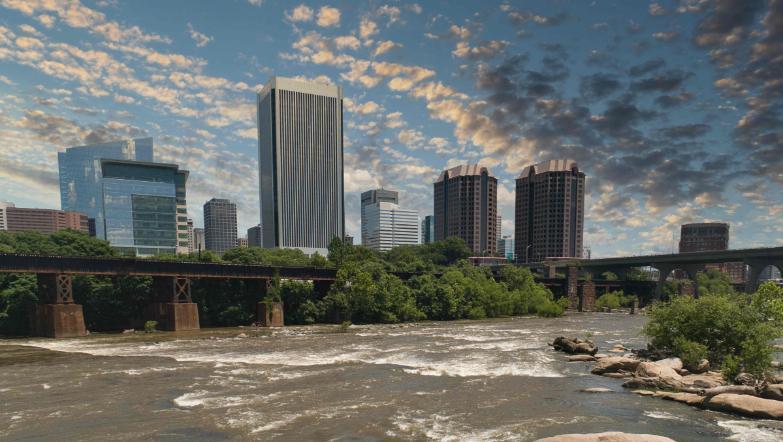 Living in Richmond
Richmond is a medium-sized city that hits well above its weight in food, culture, and outdoor activities. Frequently topping all kinds of best-of lists, there's something for everyone. Check out more here. [ https://medschool.vcu.edu/rva/ ]
Application Process
Applications will be accepted through the Electronic Residency Application Service (ERAS). Only complete applications including personal statement, Medical school transcript, USMLE scores, and three letters of recommendation will be considered. Interview offers will be distributed beginning in October. Interviews will be held in person or virtually depending on the Association of Program Directors in Vascular Surgery recommendations.