Faculty Interviews
An overview of faculty experience in global surgery:
Jennifer Rhodes is the Director of the VCU Center for Craniofacial Care as well as Associate Professor with VCU School of Medicine.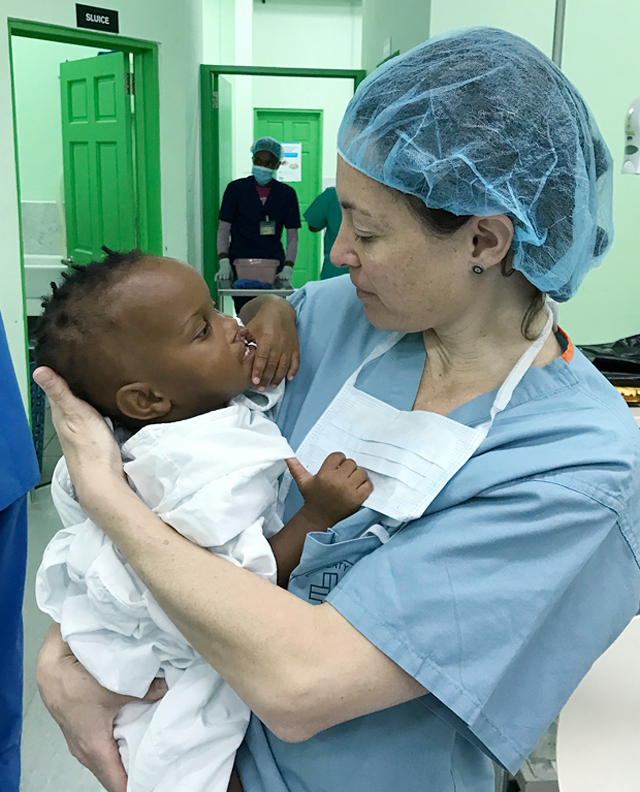 Dr. Rhodes has been working in the realm of global health for a long time. Prior to starting her work in global surgery, she worked with the Peace Corps in Mauritania. It was during her time here that she saw her first acute abdomen. She was brought to a village near where she was working, to evaluate a man who was very ill. He needed a surgeon, the only physician in the area was at least several hours away and was a psychiatrist by training, the closest surgeon was at least 2 days away. It was here she began to realize the ability surgeons have to impact the lives of people in an immense way.
These days Dr. Rhodes is leaving her mark on the world of global surgery. She currently volunteers with the World Pediatric Project, the Eastern Caribbean Initiative. This initiative is based in St. Vincent in Lesser Antilles and serves the main island of St. Vincent as well as 7 surrounding smaller islands. She travels ever winter with the plastic surgery chief residents at VCU and works at the Milton Cato Hospital to serve the plastic surgery needs of all 8 islands. While there her team does secondary burn reconstructive work, cranio-facial surgeries, facial trauma as well as addressing any other plastic surgical needs that arise. "One of the things we also do through World Pediatric Project is bring kids that have really complex surgical needs up to Virginia where we can do much more and its always wonderful getting to go back and see them get better. "
In addition to her trips abroad she also does vital work here. "The work that we do here at VCU focuses on helping other countries and systems improves care for children in the plastic surgery world." Dr. Rhodes works with VIN-SI initiative (Virginia Iowa Nigeria Surgical Initiative)- which works to improve the quality of care for children with facial clefting in Nigeria. There have been a variety of people who have come to VCU from Nigeria including plastic surgeons, audiologist, pediatricians to train in cleft repairs. "We have tried to teach about multidisciplinary care and specifically speech assessment skills. There are often no speech therapists on care teams and speech assessment skills are necessary to understand outcomes of the surgeries and whether the child is improving." Dr. Rhodes has helped develop speech assessment tools in 4 different languages so far. She calls it the "Where There is No Speech Pathologist" course.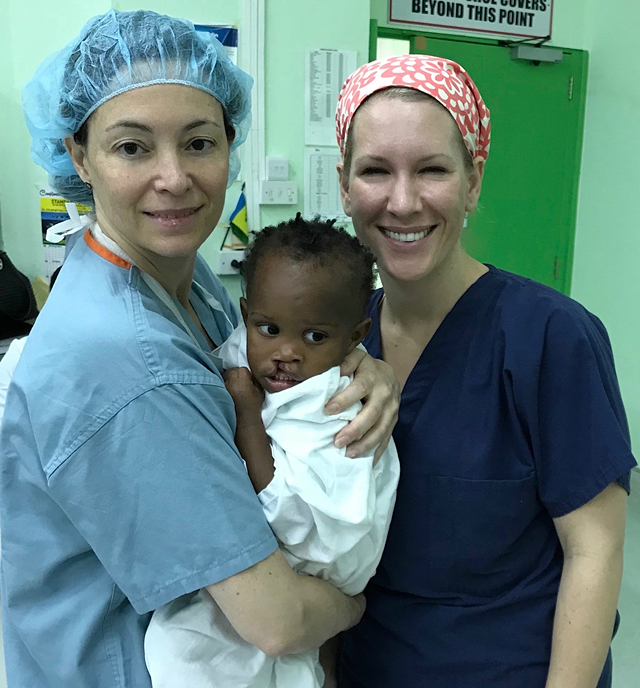 Why is global health and global surgery important to you?
"I think I was always interested in having as much of an impact as possible and helping the most underserved. I always knew I wanted to work with children and children's health. When I was a field worker for UNICEF for eradication of guinea worm, I got a really close view of Doctors Without Borders (MSF) and all the other organizations that I had idolized and it made me somewhat jaded and it almost pushed me further away from global health.
While my experience in Mauritania truly helped me appreciate how surgeons can help when no one else can, at the same time I also saw MSF operate on patients only to have them be discharged and die of a diarrheal disease. I came to realize, that thinking on a larger scale, community and country scale and building capacity to treat surgical disease is really the way to have a meaningful impact. You have to be able to look at the whole context in which a person exists to be able to effect change."
Do you take residents and medical students on your trips? Right now we only have funding to take our chief residents. We would be happy to take others but they would have to be self funded. Students and residents can contact me about the trips.
Lance Hampton is Chair of the Division and Director of Robotic Surgery at VCU Medical Center as well as an Associate Professor at the VCU School of Medicine.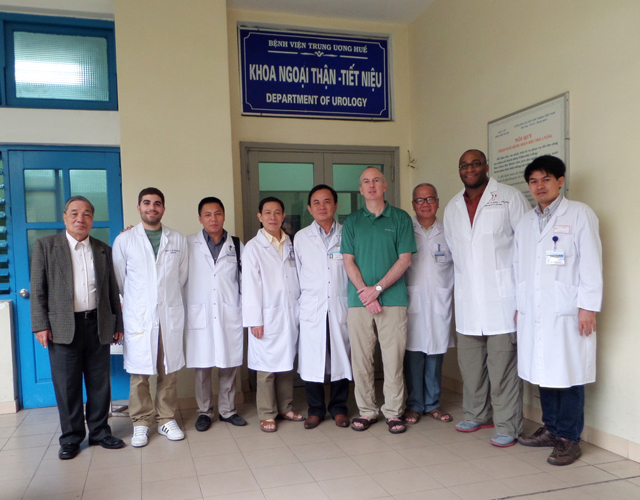 Dr. Hampton began traveling to Hue, Vietnam about 9 years ago with an organization called IVU Med. "I knew I wanted to do a medial mission of sorts and once I got to VCU, and became very involved with resident training, I knew the next step in that direction was to find trips which residents could participate in as well."
IVU Med provided just the opportunity. It is a non-profit organization which sends urologists and residents to various countries to improve urological surgical care worldwide. The program Dr. Hampton works with, in Hue, is partnered with the university and the medical school there. "The work consists of a combination of really everything. The hospital and program will set up cases that either they cannot do or haven't done enough of and would like pointers on, and sometimes we will scrub in on cases we don't see often in the US."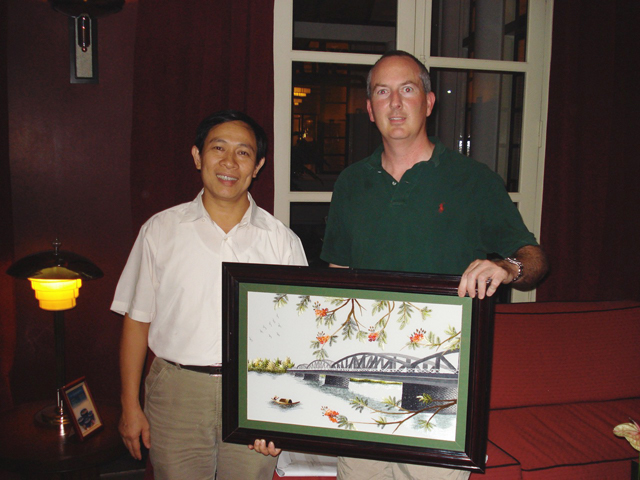 Often times, Dr. Hampton or his colleagues will give a 1-2-hour lecture to the medical students on their surgical rotation. "This can be anywhere from 300-400 students at one time and sometimes patients passing by in the hallways will pop-in to listen as well."
In addition to bringing along residents, Dr. Hampton has gotten other members of the urology department involved as well. "Residents have gone 6-7 times, and other urologists from the department have now gone to teach and operate in pediatric urology and in ureteral reconstruction."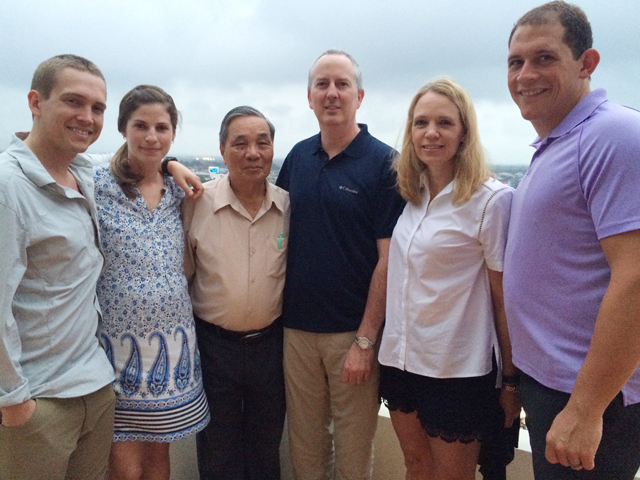 Favorite Memory:
One of the guys that helps when we are over there is a nurse in his mid to late 70s, so he has seen everything that has happened in Vietnam. Every time we go, I see him and he is always very helpful. Last time he invited us over to his house and his wife made food and we met his extended family. It was so wonderful to get to see the culture and how people live, it was very meaningful.
Can students/residents go on these trips?
Absolutely, for the residents we have some funding available. Students are also able to join, however they may have to finding funding on their own. It's a great experience for both students and residents to see how medical school in another country works, to experience cultures different from their own. I am happy to serve as a mentor as well on these trips, for students/residents who may aren't as well traveled, so that the experience is not so overwhelming.
Can students/residents contact you about the trip?
Yes, but serious inquires only please.
Organization: IVU Med https://www.ivumed.org
David Lanning is Co- Surgeon-in-Chief of Children's Hospital of Richmond at VCU as well as a Professor of Surgery and Pediatrics.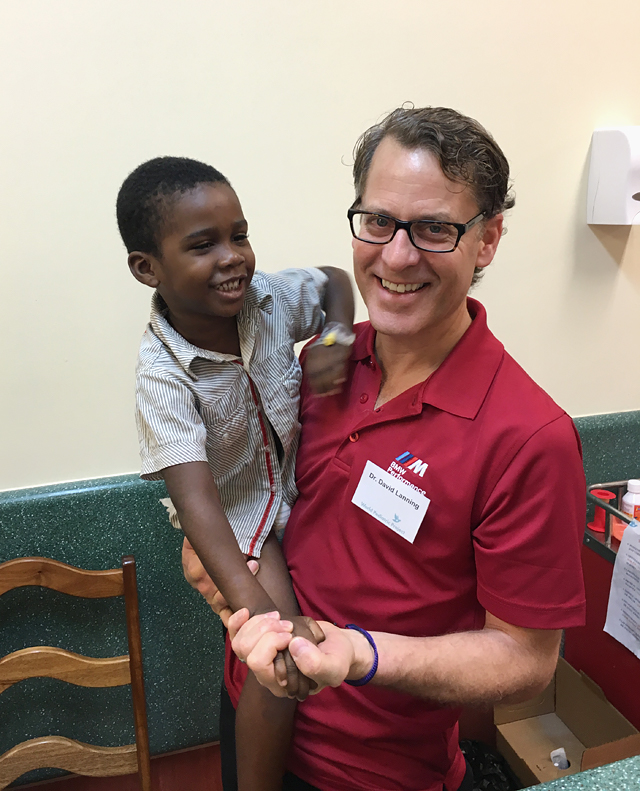 When Dr. Lanning was a fellow at Children's Hospital of Michigan, he traveled with one of his attendings on a pediatric surgical mission trip to Nicaragua. It was there that he became acutely aware of the reality that many of children face around the world. Many children would not get the surgical care they needed were it not for these types of mission trips. "This would mean that either these children wouldn't survive or would be left with a bad surgical problem. There was a significant need for pediatric surgical services in many places."
Since then Dr. Lanning has spent time in Honduras, Belize, the Dominican Republic and St. Vincent. For the last 9 years he has been traveling to St. Vincent and the Grenadines in Lesser Antilles. His work there began as weeklong pediatric surgical mission trips, but in the past several years he has really focused on training and teaching local surgeons and providers. He has set up minimally invasive pediatric surgery training over the past several years and is currently training a Cuban-trained pediatric surgeon. In addition to working to set up basic training for minimally invasive surgery in St. Vincent, he is also working to set up a similar program at the children's hospital built by the Italian government in Tegucigalpa, Honduras. "Pediatric surgery lends well to mission work because there is a fair amount of surgical disease pathology in children that can be certainly life limiting and quality of life affecting, and there are very few providers trained in pediatric surgery, so the need is great. Often you have adult general surgeons providing this care when no pediatric surgeon is available. On these trips we can provide life saving surgical care but can also educate providers there on how to fix things like pyloric stenosis, a life threatening condition that is relatively straight forward to fix."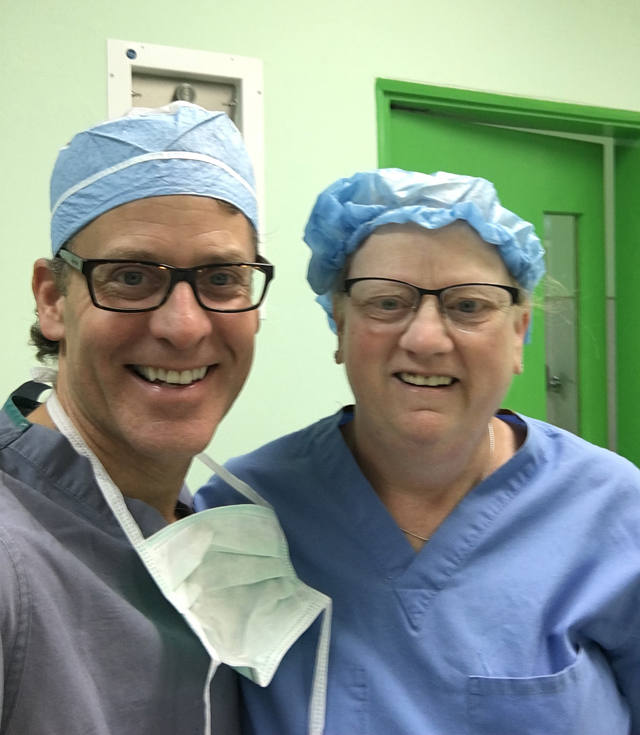 Dr. Lanning is currently working on a telemedicine project to further develop a program to educate providers in St. Vincent and some of the smaller surrounding islands. Through the use of teleconferencing technology, which is high quality and can be set up using a cellular hotspot, trained surgeons in Richmond can provide year round surgical guidance without having to be on the ground. "About 9 years ago I took one of the general surgery residents, who is a pediatric surgeon now, to St. Vincent and set up a traditional telemedicine desktop unit. It was very bulky, but we could use it for teleconferencing for pre-trip clinic, which would help us know what stuff to bring and also help guide care after we left. Just this last year, I went with another resident and we were able to test and set up wireless telemedicine device using a cellular connection. Now we can actually provide more involved training"
This new setup allows surgeons and providers in St. Vincent to communicate with providers in Richmond, but it will also allow communication from the main hospital in St. Vincent to more remote parts of the islands. The hope is that they can supply more devices to the smaller islands and more remote parts of St. Vincent to further improve provider education and care. Dr. Lanning also works with the World Pediatric Project to bring children to Richmond for highly specialized surgery and care.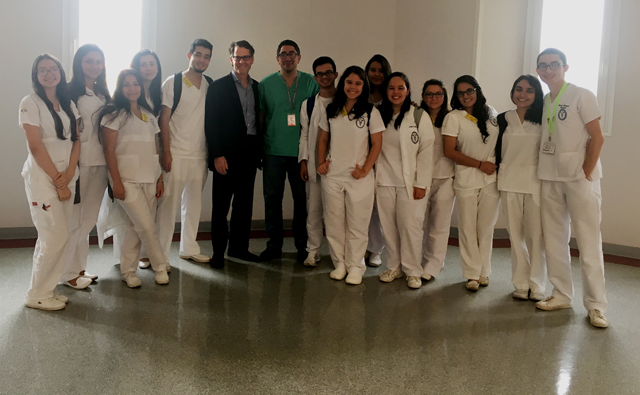 Favorite Memory
"One year, there was a baby born with gastroschisis, meaning he was born with intestines hanging outside of his abdomen. This baby was basically put behind the family's barn because they knew the child was going to die. But somehow, someone got word that medical team would be traveling to St. Vincent. Wrapped in blankets and covered in hay, they brought this baby to the local pediatrician. The pediatrician called our team to explain the situation, which had everyone panicked because we were not coming down for another week and this baby was very ill.
There was an adult general surgeon on site at the time, so we asked them to take an IV bag, sterilize it and sew it to the baby's abdomen to create a silo and keep his bowel protected, moist and sterile until we go there. It worked, they kept the baby alive until the team arrived a week later. During that week we slowly reduced the abdominal contents back into the abdomen each day. We wanted to have the general surgeon continue this process after we left and eventually close the fascia a week later but the pediatrician was concerned they would not do it. So we had to take the baby back to the OR on the last day, close the abdomen under immense tension and then because there are no ventilators available, we had to extubate the baby immediately after the procedure.
Miraculously, the baby survived the night and within a week was starting to eat. The following year when we came down, I got to see the baby again – happy, healthy, growing. It was a miracle baby, and we definitely had some luck on our side. There are many stories like that, but that was one that will stick with me."
Residents/Student involvement?
We have had residents come with us in the past on these trips, we can also take medical students through the World Pediatric Project, however funding may not always be available.
If students or residents are interested they can contact me.
Sudha Jayaraman is an associate professor in the Division of Acute Care Surgical Services, VCU School of Medicine, as well as the Co-Director of the VCU Program for Global Surgery, Department of Surgery.
Dr. Jayaraman did not grow up initially thinking of a career in health care. However, when her father was diagnosed with cancer, she was thrown into the world of medicine, and began to explore this world further. "At first I was more interested in science, but ultimately I really valued the human contact and relationships that I could develop outside of research through medicine."
Having grown up for part of her life India, Dr. Jayaraman explains the very real-life experiences she had that made her appreciate the inadequacy of health care. "When my family moved to the US, and had to seek health care I was amazed at the disparities and the disparities in what we had even in a middle class family." Dr. Jayaraman explains that she was fascinated thinking about disparities across multiple systems and settings, because of this, initially she thought she would pursue a career in infectious diseases or family medicine. "I thought surgery was just taking care of the patient in front of you, I did not see a role for surgeons in reducing global health care disparities." That all changed during her 3rd year surgical rotation when she met a chief resident working with Dr. Charlie Mock to improve access to surgical services in Ghana. "This was the first signal for me that surgeons could do more population wide work, I quickly read up on Dr. Mock and was blown away by the work he was doing in this realm as trauma surgeon."
Dr. Jayaraman chose to pursue a career in surgery, however, when she was interviewing for residency positions, she found her interests in public and global health were not often well received. Most places found it strange that she would be interested in both surgery and public health. At UCSF though, this was not the case. "I was very lucky to have mentors in residency like Dr. Debas, Chancellor of UCSF and one of the founders of the Consortium of Universities for Global Health. I was in the right place at the right time to be exposed to many surgeons thinking outside the box and making the argument that surgeons provide care at large levels- shifting the paradigm of how surgeons are perceived."
While at UCSF, Dr. Jayaraman received her MPH and began working in Uganda on the formal rotation UCSF had created. The basis of the rotation was to truly investigate how to make the UCSF- Uganda partnership bilateral, meaning it was not just for UCSF students to go and learn surgical skills in a different environment. "They really had asked the question of how can we make this bilateral – what are our strengths that we can bring, that would be useful to the people we are working with in Uganda? One of the main issues we came across was trauma, and the other issue that our Ugandan partners were very eager to think about was building research capacity. There were vast amounts of patients and the clinicians were excellent, but there was very little formal support in asking clinical questions and investigating in an established and methodical manner."
Dr. Jayaraman continued throughout residency to work on multiple projects in Uganda and when it came time for her to apply for fellowship – a friend, Robert Riviello, working at the Brigham, offered to involve Dr. Jayaraman in their starting collaboration in Rwanda. Her work in Rwanda was really kickstarted by this collaboration and a grant she received from the Harvard Postgraduate Fellowship to start examining the basics of trauma epidemiology in Rwanda.
Since fellowship, Dr. Jayaraman has been largely based in Rwanda, growing her research from the epidemiology of injury and mortality to the development of pre-hospital training. "We were finding that the majority of trauma patients died on or before arrival to the ED, early management of trauma was very necessary. Rwanda has an excellent pre-hospital system that is run by clinicians, nurse and nurse anesthetists who do not have any pre-hospital training. We are currently working with them to standardize the care they are providing and establish standards of care for pre-hospital management of not just trauma, but non-communicable disease as well as pediatric and obstetric conditions."
What does the future hold for Dr. Jayaraman? Long term, she has two major goals. There is increasing recognition of the fact that health systems and facilities cannot be fully developed without investing in access to emergency systems as well. "This is an area that the Rwandans really leading the world in, I hope to support them to be a model to help other countries develop their trauma and EMS systems, and I hope that VCU and the state of VA, which have both been very involved, will help to support them as well." In supporting their development and having them become a true partner, Dr. Jayaraman hopes this will then encourage South/South collaboration – collaboration between other low- and middle-income countries (LMICs).
Her second goal is related to innovation in global health. She has been involved with some innovation locally, but recognizes the need for solutions for many different problems in LMICs. "We are now working on creating a pilot project that allows for VCU medical and engineering students to work together on developing innovative solutions to address surgical problems in LMICS. This is an area that we are aiming to support and grow and are in discussions with other successful centers of innovation to see how we can we really build on this."
Can students contact you to get involved in projects: Yes, I have multiple medical students, residents, MPH students and others working with me on projects in Rwanda. I have had students and residents both from VCU & other institutions as well.
Paula Ferrada is a professor of surgery in the Division of Acute Care Surgical Services, Department of Surgery. She is also the Director for the Surgical Critical Care Fellowship and the Medical Director of the Surgical and Trauma Intensive Care Unit.
Dr. Paula Ferrada is the Chair for Education and Research for the Pan American Trauma Society. She began working with the Pan American Trauma Society in 1997. She initially got involved with the PTS to help her father, who was one of the founding members. She states that she stayed involved because she believes we can all truly be agents of change.
Dr. Ferrada's work in global health is rooted in her desire to give back to the people of Latin America. "I did medical school in Columbia, not because of lack of choice but because I didn't know I would end up in the US, once I did end up here – I wanted to find a way to give back to the people of Latin American- because I think they are great physicians, but sometimes lack the infrastructure or the tools to reach their full potential. I thought, if we combine the investigative brain of a US surgeon with the hands of the Latin American surgeon we can have so many more survivors of trauma. "
As an attending surgeon, Dr. Ferrada continued her work with the Pan American Trauma Society and became involved with several different global health projects. "There are many ways of giving back – I could have done missions, but I do education and research, because I believe everyone is going to continue doing what they were doing before you and no one is necessarily going to watch your patient after you leave." Dr. Ferrada believes that if she can establish and develop training opportunities, educate clinicians and prioritize trauma care, then we help create experts in the communities we work in, who will stay in those communities when we leave- this will help establish better, more strongly developed and sustainable trauma care systems.
Currently she develops, teaches and coordinates multiple different courses with the PTS, including a basic trauma course, FAST & basic ultrasound, advanced ultrasound, disaster management, burn care courses and nursing courses. The Pan American Trauma Society is the principal training society in Latin America for many of these critical care skills including complex burn care.
As the Chair for Education, Dr. Ferrada coordinates instructor training for various course and leads many of these training courses as well. Throughout the year as well as for the PTS Clinical Congress, she coordinates, develops and manages training courses. "All of these courses are training well-rounded clinicians, but I also think mentorship is very important." Dr. Ferrada is passionate about mentoring young surgeons and helping develop opportunities to become academic surgeons as well as excellent clinicians. "We are working to put together a process to do multicenter trials as part of the Pan American Trauma Society." Additionally, the PTS has a visiting fellows program which both sends US students abroad and also hosts students from Latin American countries at US institutions.
Bohl is the Chief of the Section of Colon and Rectal Surgery at VCU Health as well as an Associate Professor in the VCU School of Medicine.

Dr. Bohl began working in Haiti because of her uncle. He is an OB/GYN in Connecticut who had previously worked in the Dominican Republic for many years. On one such trip he was working in a town in the DR very close to the Haitian – DR border. He witnessed the stark disparities between the two countries, blatantly apparent just at the border crossing. It was at that time he decided to start working in Haiti. He traveled around Haiti and worked with various hospitals and eventually found Dame Marie and it was there he decided to stay. He and his team (Dr Bohl included) linked up with an organization called MATH (Medical Aid to Haiti). MATH is a organization that brings volunteer medical professionals together with Haitian medical professionals to help establish full time surgical services in Dame Marie and Port Au Prince.
Dr. Bohl began going to Dame Marie in 2011. She goes once a year, but the group makes a total of four trips per year. From her first trip to her most recent trip in February, the services they have been able to provide have vastly improved. "One of the biggest issues, was that there might be one component of the surgical team who is available, but usually there isn't an anesthesiologist and that makes it very difficult to perform safe surgeries. Or maybe the anesthesiologist will be available, but there wont be an obstetrician or surgeon. In addition, on the earlier trips we would spend a lot of our time with pre-op evaluation and wouldn't have as much time for surgeries." The group now has Cuban trained Haitian doctors who do all of the pre-operative evaluation, they have an OR available, and a Haitian anesthesiologist and a gynecologist on staff.
"It's very interesting, the first year we were there, only the adults showed up at clinic and for surgeries, it's as if they were checking us out, making sure we were safe, because once we were given the stamp of approval after that first trip- then we saw only children." Dr. Bohl describes herself as just being along for the ride to do the general surgery side of operating, but she loves getting to work with her uncle and share her passion for surgery and medicine with someone in her family.
"Going to Haiti provides a reset button and it's an opportunity that I think is incredibly valuable for attending physicians and residents alike. It's a lot of work to go and come back within the boundaries of our schedules, but when I get there, everything else goes away and I focus only on the work I am doing for the week I am there. There's something about going to a country and working within the constraints of the environment of that country which, I believe teaches us to be better physicians and it also reminds us why it was we decided to practice medicine in the first place. "
Favorite Memory:
There are so many wonderful memories from my trips, but one year I did an inguinal hernia repair on a little kid in the area, and the next day after surgery as I was walking to the hospital, I saw him kicking a soccer ball around and playing with friends, I thought- well there's my post-op check. It was wonderful to fix something for this child and see him go right back into his daily life.
Can medical students and residents go?
Yes, priority is given to residents who would like to attend the trips, but I would absolutely welcome medical students as well.
Can students and residents contact you?
Yes
Patricia Lange is Associate Professor of Surgery and Associate Program Director General Surgery Simulation and Skills at VCU.
Dr. Lange has always believed in the importance of providing care to people in underserved communities. "When I was younger, I thought there were people here who really needed care, and I tried to focus on that, but then I met the people at World Pediatric Project (WPP) and went to Belize and just loved it."
Her trip this October will mark her 6th year going to Belize. She and her team have been traveling to the government hospital in Belize city, but this year they may transition to a private endoscopy clinic or another state-run clinic. The team runs a clinic and performs surgeries throughout the week. "One of the challenges of this kind of work is that your week in country is counted as vacation, but it's a lot more than that- there is a lot pre-trip planning to make sure you have the appropriate equipment, and then you want to make sure you can follow up with these kids long term, but once you are back home, you get thrown back in to your work here." To this end, Dr. Lange is working to implement the use of telemedicine to guide post-operative care and planning, in an effort to combat the difficulty of not being available should post-operative complications or issues arise.
Many of the surgeries performed are "bread and butter" hernias, lumps and bumps. The benefit however is that, even if there are surgeons who can do it in Belize, the WPP team does the surgery free for the families who would not be otherwise able to afford the procedure. In addition, Dr. Lange and her team perform many anorectal malformation repairs that the general surgeons and contract pediatric surgeons in country aren't as comfortable doing. "There are always surprises on these trips, but one of biggest decisions we have to make is to determine what is safe and feasible to in Belize versus what we should do in Richmond. This is a big deal because it takes a lot of money to send and treat a child in Richmond and you have to weigh that against all the children who can be treated with that money in Belize." Currently, the children with more complex anorectal malformations, Hirschsprung's disease and atresias all have to be sent to the US for repair, however Dr. Lange is developing a teaching series for in country physicians to help implement a system for repairing these more complex pathologies in Belize.
"I feel like the last 5 years has been trying to improve each mission, but really having long term follow up and being more involved on a larger community and country wide setting is where I want to direct our efforts. I want to work on a longer-term teaching strategy to think about how to integrate a more stable surgical system to address the needs for kids in Belize. This is a two way street though, it's not only me teaching the physicians in Belize, but learning from them about the needs of the communities and country."
Do you take residents and students?
We have not taken residents/students — because right now it would be a lot of shadowing, since I mostly operate with another pediatric surgeon trained in Cuba. We hope that potentially there could be two rooms in the next couple of years that we have for operating – and in that case we could have residents help more easily. However, students and residents can contact me about the project.
Global Surgery Partners
We encourage you to learn more about our partners
VCU Crone-Scholars Program
A brief introduction:
Charles and Ginny Crone created the VCU-Crone Scholars Program in 2016 to help foster the collaboration between VCU and the Ministry of Health of Rwanda. Through their generous support, several leaders of the trauma and EMS system in Rwanda have visited and worked with colleagues at VCU. See stories below.
As of March 2019, Mr and Mrs Crone have generously agreed to support global surgical education for VCU surgery residents and have set up three scholarships a year for the next five years for them to learn through VCU's many global collaborations as Global Surgery Scholars. More details available soon.
Meet the scholars
Dr. Gabin Mbanjumucyo, Resident in Emergency Medicine at the University Teaching Hospital of Kigali and President of the Rwanda Emergency Care Association and Mrs. Irene Bagahirwa, Director of Injuries at Rwanda Biomedical Center in Kigali, Rwanda arrived to spend two weeks in Virginia as VCU-Crone Scholars. Both spent time with Dr. Ornato, Chair of VCU Emergency Medicine and Operational Medical Director of the Richmond Ambulance Authority as well as Dr. Dhindsa, Chief of Operations, VCU Emergency Medicine to understand how the Department is structured and able to provide care to 100,000 patients every year. Dr. Gabin met with Dr. Feeser, Director of QI for VCU Emergency Medicine and attended some of the resident lectures with Dr. Moffett, Residency Director for VCU Emergency Medicine and toured the EMS services with Dr. Jeffrey Ferguson and Drs Stephanie and Amir Louka. Both toured the VA Office of EMS and learned about the state's emergency preparedness and EMS system organization. They also met with Trauma Program Manager Beth Broering and Trauma Program Managers Heather Mason and Beth Torres to learn about how the trauma system performs QI.
Both attended the Rao Ivatury Trauma Symposium to see the breadth and depth of collaboration between Trauma, Emergency Medicine, EMS as well as cross-disciplinary collaboration across medicine, pharmacy, nursing, and prehospital staff. Mrs. Irene spent time with Amy Vincent Dir of VCU's Injury and Violence Prevention Program and even got to meet Mayor Levar Stoney at an injury prevention community event!
Dr. Gabin and Mrs. Irene were invited to attend a dinner at the Rotary Club of Williamsburg which has an active collaboration in Rwanda in collaboration with VCU. They represented the collaboration and invited Rotarians to come to Rwanda to see the beautiful country and continue to engage with fellow Rotarians and colleagues there.
Both also gave visiting lectures at VCU to staff from Trauma, Emergency Medicine and Nursing on the developing field of Emergency Medicine in Rwanda as well as the Trauma epidemiology in Rwanda. As a part of their trip, they enjoyed a one day visit to Washington DC to see the famed US capital and be inspired by the history of the country.
Dr Menelas Nkeshimana, Head of Dept of Emergency Medicine at the University Teaching Hospital of Kigali and Mrs Christine Uwitonze, Matron in Charge of Emergency Dept at the University Teaching Hospital of Kigali arrived to spend two weeks in Virginia as VCU-Crone Scholars. Both spent time with Dr Ornato, Chair of VCU Emergency Medicine and Operational Medical Director of the Richmond Ambulance Authority as well as Dr Dhindsa, Chief of Operations, VCU Emergency Medicine to understand how the Department is structured and able to provide care to 100,000 patients every year. Dr Nkeshimana also met with Dr Feeser, Director of QI for VCU Emergency Medicine and Dr Moffett, Residency Director for VCU Emergency Medicine. Both also met with Dr Shirley Gibson, VP of Nursing, Ms Nancy New, Director of Surgical and Trauma Nursing to understand how physicians and nurses work together in an interdisciplinary manner. Both also spent time with VCU School of Nursing Dean Jean Giddens and Associate Dean Debra Barksdale hearing about the outstanding nursing curricula taught at the school including distance learning options. Both also met with Trauma Program Manager Beth Broering and Trauma Program Managers Heather Mason and Beth Torres to learn about how the trauma system performs QI.
Dr Menelas and Mrs Christine gave visiting lectures on the health care system in Rwanda, the development of an Emergency Medicine and the Quality Improvement projects occurring at Dept of Emergency Medicine at the University Teaching Hospital of Kigali.
Charles and Ginny Crone created the VCU-Crone Scholars Program to support in 2016 to help foster the collaboration between VCU and the Ministry of Health of Rwanda.
Through their generosity Major Ignace Kabagema, Prehospital Team Leader and Jeanmarie Uwitonze, Prehospital Emergency Care Coordinator of SAMU, the national ambulance service in Rwanda, spent three weeks in Virginia learning about VCU's Emergency Center and Level 1 Trauma Center, the Richmond Ambulance Authority, the Virginia State Office of EMS and the Virginia EMS Symposium.
They met with Dr. Aboutanos, Division Chief of Acute Care Surgery and VCU Trauma Medical Director, Dr. Ornato, Chair of VCU Emergency Medicine and Operational Medical Director of the Richmond Ambulance Authority, Rob Lawrence, COO and Chip Decker, CEO of the Richmond Ambulance Authority as well as Gary Brown, Director of the VA Office of EMS. They learned about the emergency services that VCU provides to a region that is roughly the size of the country of Rwanda. They spent days learning the organizational details of RAA to understand how it has become one of the best ambulance agencies in the US and got to see how the state of Virginia is organized and is one of the few states in the US with an EMS plan covering the entire geography.
Major and Jeanmarie also gave a visiting guest lecture on the EMS system in Rwanda to faculty, staff, and students at VCU School of Medicine that was attended by Dean Strauss, Drs Kasirajan, Ornato, and Aboutanos. Both enjoyed the in-depth exposure to our systems, meeting a wide range of colleagues and took a whole host of ideas back to SAMU in Kigali thanks to Mr. and Mrs. Crone and the VCU-Crone Scholar Program.