Department Newsletter "Surgical Notes"
Stay up-to-date on recent news from VCU Health, learn about our faculty accomplishments, and hear about surgery research, housestaff accolades, and alummi successes. Surgical Notes Newsletter
Katie Golob New Administrator for the Department of Surgery
Congratulations to Katie on her official appointment as Administrator!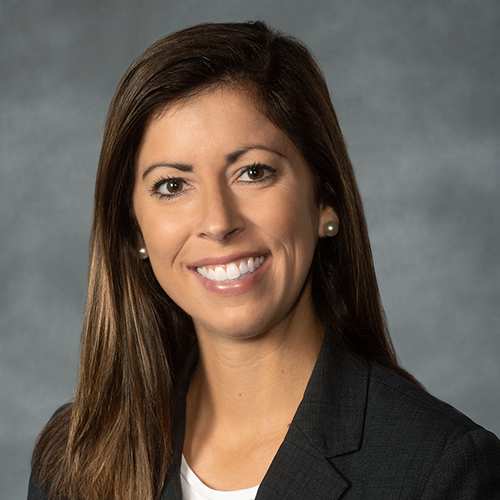 Katie joined VCU in 2017 from UVA where she served as the manager for neurosurgery, neurology, and psychiatry clinics. She has since been the associate administrator for Acute Care Surgical Services at VCU. She has been instrumental in the growth and development of acute care surgery clinical services and programs into the largest division in Surgery.
Since serving as interim-administrator for the department, she has helped lead the department through unprecedented times with a calm and thoughtful approach in collaboration with division chairs and administrative leaders. We will look forward to continued growth and success with her administrative leadership in Surgery.
Please join us in celebrating our newest leader!
Resident News: Research Award
The Thoracic Surgery Foundation (TSF) awards 2020 STSA Resident Research Award to Dr. Cholyway
Congratulations to Renee Cholyway, MD, General Surgery Residency Program, on receiving the STSA Resident Research Award!
2019 Edward A. Wayne Medal
The Edward A. Wayne Medal was established in 1971 to honor individuals who have made outstanding contributions or provided exemplary services to VCU.
"Edward A. Wayne Medals were awarded to both Ramona S. Neifeld and James P. Neifeld, M.D.
James Neifeld joined the faculty of the VCU School of Medicine as an assistant professor in surgical oncology in 1978 and later served as chair of the Department of Surgery for more than 10 years. As a registered nurse, Ramona Neifeld worked in oncology and volunteered at St. James the Less Free Clinic.
The Neifelds are longtime donors to the Massey Cancer Center and the School of Medicine. In 2011, they established the Herbert S. and Elinor C. Neifeld Scholarship in Medicine in honor of James' parents. Passionate supporters of VCU Athletics, the Neifelds created the Neifeld Family Scholarship for Golf and supported construction of VCU Athletics' Basketball Development Center and the VCU golf practice facility at First Tee. For years, James hosted the annual Janney Invitational College-Am golf tournament benefiting the VCU golf program." Congratulations, Dr. and Mrs. Neifeld!
pictured: James and Ramona Neifeld with Michael Rao, PhD, President VCU and VCU Health System
story & photo credit: VCU News
---
VCU School of Medicine 21st Annual Faculty Excellence Awards
We are proud to announce the following faculty recognized by VCU School of Medicine for teaching excellence:
Christine B. & David E. Cottrell Surgical Innovation Laboratory
In gratitude for and acknowledgement of the generous gift from Christine and David Cottrell, VCU School of Medicine announces the new surgical innovation laboratory will be named in their honor.
Keeping Up with VCU Surgery
Department Newsletter
Keep up with faculty news, residency education, surgery research and more!
Surgical Notes
Annual Report
An overview of administration, surgery division innovations, and introducing ORBIT —
2017–2018 Annual Report
Humera Surgical Society
The Humera Surgical Society honors Dr. David Hume's memory with yearly meetings designed to foster intellectual curiosity and rekindle friendships.
Humera Surgical Society
Latest News
The institute is part of a new partnership that has been awarded a $354 million U.S. Department of Health and Human Services contract to prevent domestic shortages of critical medications.

This new phase will be just as challenging as the shutdown, health experts and business leaders say. "The psyche of business owners and consumers is very fragile right now."

Leading and creating systems of compassion results in better care, according to a VCU College of Health Professions expert in a recent paper.

Soon, clinics across the state will have access to interpreters, physicians, nurses, mental health professionals, dietitians, social workers, and more through Zuhayr Shaikh's growing network.

Tools that help people recovering from addiction get through their day-to-day lives are largely applicable during this time of social isolation.

A VCU class, Digital Media Strategies for the COVID-19 Crisis, is helping people learn how to effectively communicate in unprecedented times.

The online sessions are free and open to the public and will cover topics including safely reopening businesses and health disparities during the pandemic.

Tip No. 1: Be intentional about your space and activities while spending so much time together.
Surgery Event Calendar