Diverse Scholars in Surgery Program
Announcement from Dr. Vigneshwar Kasirajan, Professor & Chair, VCU Department of Surgery
Dear Colleagues,
In the midst of treating patients during the coronavirus pandemic, many of us are now devastated and angered by the shocking deaths of George Floyd, Breonna Taylor and Ahmaud Arbery.
Over the past week, there has been widespread unrest and I recognize how this affects all of us. To our residents especially, we hear you and understand your uncertainty. Please take time to connect and learn from each other, our patients and our community.
My wife, Sucharitha, and I feel strongly that something has to change, and we, too, have to change. In an effort to support diversity in the surgical field, we have decided to launch the Diverse Scholars in Surgery Program with a $25,000 gift to establish a new endowed fund at the MCV Foundation.
According to the AAS, only 10% of all surgical trainees identify as an underrepresented minority. As many of you know, in certain subspecialties like urology, these statistics are even more disparate. Many minority students never experience external surgical rotations; and we know these rotations enhance the medical education experience while also enhancing residency applications.
The Diverse Scholars in Surgery Program will embrace the principles of diversity and inclusion and offer expanded opportunities for medical students. Funds will support VCU medical students who complete external surgical rotations and/or students from other medical schools who complete surgical rotations here at VCU. Surgical rotations include those undertaken during the M4 year, including general surgery, urology and plastic surgery. Funds will be used to reimburse student participants for costs associated with travel, lodging and meals.
I would love to see this grow to a large enough endowment that we can support multiple students every year. I hope you will consider joining me in making a gift to this fund.
If you'd like to make a gift please visit: https://www.support.vcu.edu/give/fund?fund=69629
Together, we all stand against racism.
Sincerely,
Vig
Congratulations to the following faculty on their recent promotion and/or tenure:
Rahul J. Anand, MD | Professor

Michael J. Feldman, MD | Professor

Stefan W. Leichtle, MD | Associate Professor
Kandace P. McGuire, MD | Professor
Jennifer L. Rhodes, MD | Professor
(June 2020)
Department Newsletter "Surgical Notes"
Stay up-to-date on recent news from VCU Health, learn about our faculty accomplishments, and hear about surgery research, housestaff accolades, and alummi successes. July 2020 Newsletter
Resident Honors & Awards
Congratulations to general surgery resident Ashley Rosenberg, MD, MPH for being named the 2020 recipient of the Charles C. Clayton Scholarship
The C. C. Clayton Award was established in 1978 to reward outstanding rising second year (or beyond) graduate students in School of Medicine advanced degree programs.
The award is made in honor of Dr. Charles Clayton, who served as Professor of Biochemistry and Assistant Dean of the School of Basic Sciences and Graduate Studies. Dr. Clayton came to the Medical College of Virginia in 1949. He rose through the academic ranks, making scholarly contributions in the area of lipid biochemistry, while carrying extensive teaching responsibilities in all of the health professions programs at MCV after World War II. The graduate programs had been suspended during the War to devote the entire effort of the faculty to training health professions practitioners in a variety of accelerated programs. Dr. Clayton was also instrumental in developing the first doctoral programs at MCV. Daniel T. Watts tapped Dr. Clayton to serve as Assistant Dean during the period of rapid growth of the graduate programs in biomedical sciences at the newly created Health Sciences Division of Virginia Commonwealth University. Dr. Clayton served in this capacity, and as Executive Secretary of the A. D. Williams Committee, until his unexpected and untimely death in 1977.
Dr. Rosenberg, PGY-3, General Surgery Residency Program, was also named the recipient of the June Horsman Scholarship which was established by Mr. Charles Crone in honor of his late sister. All awards were announced at the May 2020 commencement celebration during which Dr. Rosenberg received her Masters in Public Health.
Well done, Dr. Rosenberg! | More "Resources for Graduates"
[credit: Department of Surgery "Surgical Notes" / June 2020]
VCU School of Medicine 21st Annual Faculty Excellence Awards
We are proud to announce the following faculty recognized by VCU School of Medicine for teaching excellence:
Katie Golob New Administrator for the Department of Surgery, April 2020
Congratulations to Katie on her official appointment as Administrator!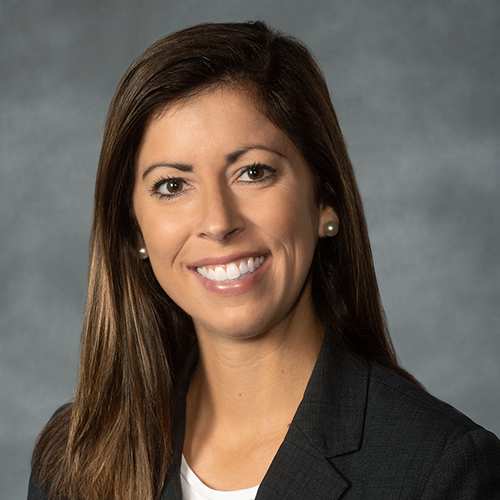 Katie joined VCU in 2017 from UVA where she served as the manager for neurosurgery, neurology, and psychiatry clinics. She has since been the associate administrator for Acute Care Surgical Services at VCU. She has been instrumental in the growth and development of acute care surgery clinical services and programs into the largest division in Surgery.
Since serving as interim-administrator for the department, she has helped lead the department through unprecedented times with a calm and thoughtful approach in collaboration with division chairs and administrative leaders. We will look forward to continued growth and success with her administrative leadership in Surgery.
Please join us in celebrating our newest leader!
Christine B. & David E. Cottrell Surgical Innovation Laboratory
In gratitude for and acknowledgement of the generous gift from Christine and David Cottrell, VCU School of Medicine announces the new surgical innovation laboratory will be named in their honor.
Keeping Up with VCU Surgery
Department Newsletter
Keep up with faculty news, residency education, surgery research and more!
Surgical Notes
Annual Report
VCU Surgery has seen significant growth in our core missions of innovation, education and clinical programs.
2019 Annual Report
Humera Surgical Society
The Humera Surgical Society honors Dr. David Hume's memory with yearly meetings designed to foster intellectual curiosity and rekindle friendships.
Humera Surgical Society
Latest News
The institute is part of a new partnership that has been awarded a $354 million U.S. Department of Health and Human Services contract to prevent domestic shortages of critical medications.

This new phase will be just as challenging as the shutdown, health experts and business leaders say. "The psyche of business owners and consumers is very fragile right now."

Leading and creating systems of compassion results in better care, according to a VCU College of Health Professions expert in a recent paper.

Soon, clinics across the state will have access to interpreters, physicians, nurses, mental health professionals, dietitians, social workers, and more through Zuhayr Shaikh's growing network.

Tools that help people recovering from addiction get through their day-to-day lives are largely applicable during this time of social isolation.

A VCU class, Digital Media Strategies for the COVID-19 Crisis, is helping people learn how to effectively communicate in unprecedented times.

The online sessions are free and open to the public and will cover topics including safely reopening businesses and health disparities during the pandemic.

Tip No. 1: Be intentional about your space and activities while spending so much time together.
Surgery Event Calendar